The Colors of Us (2016)
OFFICIAL RELEASE DATE: OCTOBER 21, 2016
If you can't make it to a library show, or your youngster doesn't sing with me at school, you can now order online by clicking here. You can also listen to samples of all the songs. Please beware of shipping and handling charges. Thanks to CDbaby for making it possible. Digital downloads are also available from iTunes, Amazon, and everywhere.
CD DESCRIPTION:
The idea for this CD popped into my head quite a while ago. A completely "Do-It-Myself" recording with just me playing the guitar and singing new songs – just like you'd hear if I were playing them for you in your living room. No extras, bells, or whistles. Simple and clean. 10 fun songs (24 minutes), unplugged and unhinged (as Sarah Mertyris said). So here is The Colors of Us (Hot Biscuits Music 006), my 6th CD of homemade, handmade music for kids and their grown-ups. There's a song about my crazy cat, the backyard, my old guitar, and the Gingerbread Man. These songs are guaranteed to make your ears smile. It was fun to write and record each one. I really hope you like them as much as I do. And as always, thanks for listening…
LYRICS:
For all the lyrics to all the songs, please visit the Lyrics Page
CREDITS:
Produced by Mister Cooper
Recorded by Mister Cooper @ Cooperstown Laboratories (Sacramento, CA.)
Guitar & Vocal by Mister Cooper
Edited and Mini-mastered by Scott McChane (The Man)
All songs written by Ken Cooper © 2016 Hot Biscuits Music (BMI) except:
"Play Date" written by Sarah Mertyris and Ken Cooper © 2016 Hot Biscuits Music (BMI)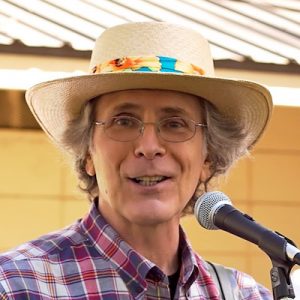 Here's an article published by "The Land Park News"(November 10, 2016). Thanks, Monica.