Reprinted from "The Pocket News" – June 6, 2013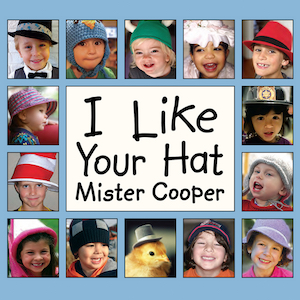 By Monica Stark
editor@valcomnews.com
Liked by kids and parents alike, Mister Cooper is always a hit and a hoot to boot, whether he's at your local library or at your child's school.
While he describes his most recent CD "I Like Your Hat" as an album about kids not necessarily for kids, my 17 month old and her playmates at daycare boogie down when the adults put it on. Listening to it in the car definitely helps trips fly by. There is one song on the album that even my dad recognized, though. It's a kind of bluegrassy cover of The Who's "Pinball Wizard." It's a great song and Mister Cooper does it justice. He says he's been playing it that way for 20 years and it was recorded with the Loose Acoustic Trio for their "Sorrow Be Gone" CD.
One mom at a recent storytime at the Colonial Heights branch agreed, telling him something to the effect of: "We were in traffic in San Francisco for three hours, so it was a Mister Cooper marathon." To wit, he replied: "I'm so sorry. That sounds terrible."
That's the kind of fun guy this musician is. Ken Cooper has been making kids' music for 17 years, ever since his son, John Cooper (who did a little bit of writing for Valley Community Newspapers and now works for the state), was in kindergarten and the school asked parents if they have any skills or talents they could share.
That was the first stepping off point, so to speak. And the "Mister Cooper is for the birds" album is what he calls the gateway CD with songs more for kids than about them.
Mister Cooper seems to keep relatively busy, going from libraries to schools to even performing at special events like festivals and birthday parties. His schedule for public events is on his website, www.MisterCooper.com, which is where you can also find his music. You can go to iTunes and listen to a sample of every song. You can get a song for 99 cents or the entire CD for $9.99. If you prefer the physical CD, you can get one from CDBaby.
As he says online, the best way to get a copy of the new songs for your listening pleasure is directly from him. "Come to a show, sing along, do the freeze dance, and pick up a CD for the ride home."
Here are the lyrics to his most recent album's title track, "I Like Your Hat," which is one of the four songs he sang on a Loose Acoustic Trio CD. "I had to re-write the lyrics to make them kid friendly. I like the new lyrics better," he says on his website. I like them too!
I like your hat
I used to have a hat like that
Now I don't know where it's at
I like your hat
I'd like another hat like that
Oh, I wish I had my ole hat back
I like your hat
I like your hat
My friends and I spent Fridays after school
Playing baseball in the park
I lost a bat, my glove, and favorite cap
No one could find them after dark
A lid like yours makes a great disguise
Where you can hide a bad haircut
That big ol' brim will keep the sun out of your eyes
I'd buy one now, but the price went up