Reprinted from "The Pocket News" – December 6, 2012
Mr. Cooper performs weekly for children at Belle Cooledge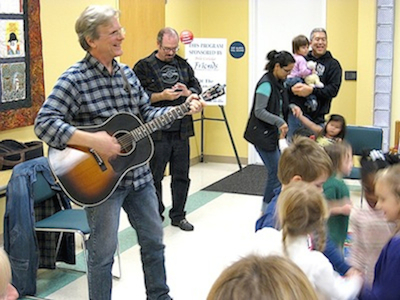 By John Cooper
On Tuesday, Nov. 27, patrons of Belle Cooledge Library were treated to the sounds of music coming from the community room. Every week from 4 to 4:30 p.m., parents and children alike are invited to join in with Mister Cooper's Sing-A-Long club, a free program which encourages children to learn and be social through music.
The event, sponsored by the library and hosted by award-winning children's musician Ken Cooper, is tailored for younger kids but open to all. Both parents and children are encouraged to sing and dance along with classic songs like "Days of the Week" and "Freeze Dance," as well as original songs written and performed by Mister Cooper.
The community room is set up to encourage children to talk and play with one another during the performance. Rows of chairs are set up along the walls for parents, with Mister Cooper at the front of the room. However, the inside floor is where the fun happens. As soon as Mister Cooper started to sing and play his guitar, the kids joined right in. Many knew the words, and those who did not could still dance or clap with the beat. When Mister Cooper began the freeze dance, almost every kid got up and participated. Songs were not the only things sung that day. After it was revealed that I am Mister Cooper's son, parents began to sing me his praises. "We love your dad!" one mom told me as she was leaving. "The Sing-A-Long really got my son out of his shell." Another told me how glad she was that Mister Cooper had started the club, and how much her children loved him. Her kids, who were standing by her side at the time, nodded their agreement.