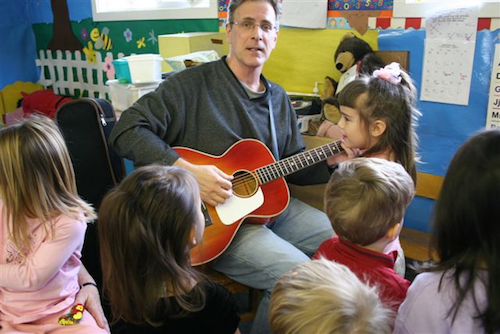 When Ken Cooper volunteered to play music in his son's kindergarten classroom, little did he know that more than 20 years later, he'd still be singing with young students at schools, libraries and concert venues. But here he is, now known as Mister Cooper, bringing an array of "songs that teach" music programs to growing audiences throughout the Sacramento area. With state and local budgets being slashed, arts programs seem to be the first to go. But Aristotle said it best – "an education without music is like no education at all."
Mister Cooper is a busy musician these days. During the school year, he can be found at four (and counting) elementary schools, presenting a wide range of curriculum-based grade level appropriate programs. He also currently visits two preschools bringing songs, lyrics and movement to help younger children develop and reinforce early literacy as well as other learning and social skills. His after school "Sing-Along Club" enables primary school children to explore the joys of singing with a wider range of songs (and kazoos). Cooper also brings his "Sing-Along Club" to various local libraries, building a community of children and their grown-ups that continues after music time has ended.
On October 21, 2016, Mister Cooper released a new CD, titled The Colors of Us. It's a completely "Do-It-Yourself" recording with just him playing the guitar and singing his newest songs – just like you'd hear if he were playing them for you in your living room. No extras, bells, or whistles. Simple and clean. 10 fun songs (24 minutes), unplugged and unhinged (as Sarah Mertyris said). So here is The Colors of Us (Hot Biscuits Music 006), his 6th CD of homemade, handmade music for kids and their grown-ups. There's a song about his crazy cat, the backyard, his old guitar, and the Gingerbread Man. These songs are guaranteed to make your ears smile. Previous CD releases include: Mister Cooper (2006), This World (2009), Mister Cooper is for the birds (2011), I Like Your Hat (2013), and Pirate Ship (2015).
A Fall 2011 Parents' Choice Approved Award Winner – "Mister Cooper is for the birds". Acoustic musician and music educator Ken Cooper has an inviting, down-home way with a song, finding inspiration in the interconnectedness of living things, confidence-building ("Yes I Can") and the joy of reading ("Dr. Seuss Is On the Loose"). Among the highlights: Cooper's humorous spin on the definition of living spaces ("a peach is a house for a peach pit/a sandwich is a house for ham" in "A House is a House for Me") and a tribute to that ubiquitous pause-filler, "Um." Lynne Heffley © 2011 Parents' Choice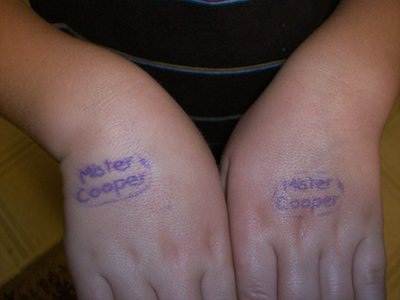 *****************************************************************
A young man named Sean Fisher came up after a library show and asked if he could write a term paper about me for a music class at Sac. City college. He sent me some questions to answer and the rest was up to him. Here is the resulting paper. Maybe this will be informative as well as entertaining. Thanks, Sean. Good job, well done.
*****************************************************************
Sean Fisher
Dr. Dennis Weber
MUS 327
2 March 2014
Mister Cooper: Music That Teaches
I walk into a room full of children ages, 6 and younger, laughing and playing and some crying. An older man sits at of the front of the room with an acoustic guitar strapped over his body talking with a couple of the young children. At 4:00 pm every Wednesday, the man with the guitar begins singing a song called "Good Afternoon" and the children start to calm down and sit on the floor. The man singing is Ken Cooper, better known to the children as Mister Cooper. Mister Cooper has come to the Belle Cooledge Library in Sacramento, CA, to serenade these children with fun, interactive and educational music for the next 30 to 40 minutes. As he finishes "Good Afternoon" be begins with a song that teaches the months of the year, and the children start to sing along. He asks the children to cheer with a fist pump when they sing the current month. After the first round of months every child has their hands in the air every time they sing "February." It seems obvious that Mister Cooper has been doing this for a long time. He controls the kids and helps maintain their focus for the next 30 minutes. As the show progresses on, Mister Cooper gets the kids to participate more and more as he sings songs loved by the children and the parents. A room of 40 or more people are singing such fun songs as "Matilda the Gorilla," "Dr. Seuss is on the Loose," and classics like "I've Been Working on the Railroad." He ends every session with an acoustic medley of dance worthy music, in which he asks the children to stand up and dance. As he opens with a fun pop sounding beat, he explains the rules for safety to the children. And that when he says, "Freeze!" the music stops and the kids must pause. The kids listen well and freeze in funny poses as he stops the music. As soon as he starts again the children begin dancing. Mister Cooper then switches to a funk sounding guitar riff. As the show winds down, Mister Cooper invites the children to come up and get a hand stamp. The stamp is his way of signing autographs for the kids. He says a lot of them by name (he has a steady group of followers at Belle Cooledge) and thanks them for coming. It is easy to see why Mister Cooper is so loved by the children and the parents who frequent these sing along events. He shows through music that learning can be fun and easy.