CD Reviews ********************

A Parents' Choice Approved Award Winner "Mister Cooper is for the birds" (2011)
Acoustic musician and music educator Ken Cooper has an inviting, down-home way with a song, finding inspiration in the interconnectedness of living things, confidence-building ("Yes I Can") and the joy of reading ("Dr. Seuss Is On the Loose"). Among the highlights: Cooper's humorous spin on the definition of living spaces ("a peach is a house for a peach pit/a sandwich is a house for ham" in "A House is a House for Me") and a tribute to that ubiquitous pause-filler, "Um."
Lynne Heffley © 2011 Parents' Choice
"Mister Cooper is for the birds" (2011) – review
The latest CD is another wonderful recording. I really enjoy the sense of fun in your music and your ability to write songs for kids without talking down to them.
Bill Wagman – "Saturday Morning Folk Show" KDVS radio (Davis, CA)
"I Like Your Hat" (2013) – review
In Mister Cooper's usual up-tempo fashion, the songs are energetic, positive, and make you smile! Some of them have a special message, such as "Anything is Possible" and "Are You a Bully?" and others are just plain fun!
Keilah Woodard – SacramentoSidetracks.com
"Pirate Ship" (2015) – review
Best album yet!
Monica Stark – Editor, "Land Park News"

School and Library Reviews ********************

"Thank you for the musically enriching experiences you have created for our students here at Sutterville. We have truly benefited from your professional demeanor, musical expertise, generosity, and wonderful way with kids. Thank you!"
Lori Aoun – Principal of Sutterville Elementary School
"I always love the kids' reaction to you, especially the ones that have seen you at their school – they obviously think you are "their" special person, and the joy they take in seeing you in another venue just makes my day. I remember at the last show some of our rowdy middle-schoolers peeked in the window and said "it's Mr. Cooper!" and relived some of their long-past childhood… It's obvious you have made a connection with these kids that lasts long after the songs are over. Thanks for sharing your talents with us."
Christie Hamm – Manager of Youth and Community Services at Sacramento Public LIbrary
"Mr. Cooper's music program has been a wonderful addition to the curriculum at Tiny Tot Time. Ken brings a repertoire of songs that reinforce the pre-Kindergarten standards. The children look forward to our half-hour music session. The songs teach life lessons and values while at the same time providing entertainment. Mr. Cooper writes songs for important events and issues within the community. Ken's commitment and creativity are unparalleled and greatly appreciated by children and parents alike."
Rachael Hinrichsen – Director of Tiny Tot Time, Land Park (Sacramento, California)
"You're a great asset to our community and I appreciate your presence very much."
Nate Halsan – Children's Librarian, Belle Cooledge Library
Spring Fest was a big success and we wanted to say a great big THANK YOU for all the hard work you did preparing the students. We had many positive comments from the parents. The parents loved it, the kids loved it, and of course you made us teachers look good! On Friday, we preformed for almost the entire school, singing with the I-pod, and it was a big success. You should have heard the entire school singing "Take me out to the Ball Game". It was fabulous! Camellia is so fortunate that you share your music and talent with us. The children love to sing and you always provide fun songs for them to learn. Thank you for spending part of each Thursday with us. We truly do appreciate it! You are appreciated and loved at Camellia.
Jan Gregson and Joanne Kho – Camellia Basic Kindergarten teachers
"Mister Cooper has enriched our learning environment through his musical ability in so many ways. His weekly visits to our Kindergarten classrooms have proven to be the highlight of our week. Mister Cooper has a natural gift of engaging children through music, laughter, and movement. He communicates well with the teachers to ensure that his song choices truly enhance the curriculum. Parents, teachers, and children alike have all enjoyed singing along with Mister Cooper's CDs. In addition, Mister Cooper graciously leads two concerts each school year! The children are so proud showing off all the songs they've learned during the Kindergarten Sing program. Naturally, parents are thrilled to see their children shine on stage! Mister Cooper is dedicated, reliable, professional, and downright FUN! He is an asset to any learning environment."
Tara Nye – Sutterville teacher and former Hollywood Park teacher
"I would highly recommend all of Ken Cooper's curriculum-based music programs. Sutterville counts him as one of our teachers and credits him with providing some of the depth and breadth that made our school a distinguished school in 2005-06."
Diane Shada – former Sutterville Principal
"Ken Cooper has been teaching and entertaining our Kindergartners for the past twelve years. What Ken saw as a musical deficit in our program has turned into a delightful weekly musical program. The Kindergarten Sing program has become much more than a music program. It is directly linked to the California Reading Standards and the reading standards of the Sacramento City Unified School District. Ken has aligned his music program to provide phonemic awareness (the ability to hear sounds) through song to all kindergarten children at Sutterville, John Cabrillo, and Bret Harte Elementary Schools. His curriculum has been coordinated to enhance that of Open Court. It addresses individual needs by meeting one more learning style that sometimes gets overlooked.
In addition, Ken makes the curriculum fun while keeping the students focused and participating. Our curriculum would not be as rich without him. And, more importantly, our student's educations would not be as well-rounded. He is a joy to work with and observe. We think of him more as a colleague than just an Artist-in-Residence."
Sutterville Kindergarten teachers
"Everyone in the preschool looks forward to Mr. Cooper coming once a week. His program is not only fun but also a learning experience that builds social skills, confidence, and self esteem."
Sally Baker – former head of Sutterville Parent Ed. Preschool
"Mr. Cooper's Kindergarten Sing program helps to address the needs of ELL learners and special needs students as well as providing curriculum support to all of the children."
John Cabrillo Kindergarten teachers

Newspaper Articles ********************

"The Land Park News" & "East Sacramento News"
Reprinted from "The Land Park News" – February 26, 2015
Additional content (in italics) from "East Sacramento News" – March 5, 2015
Sacramento children's musician releases best album yet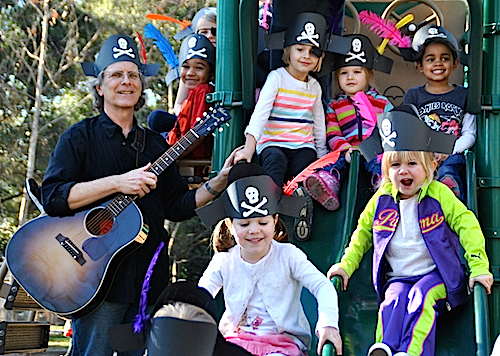 (Children's musician Mister Cooper with his fans from Tiny Tots preschool in Land Park. The group of pirates got together to sing some tunes from "Pirate Ship," Mister Cooper's latest album.)
By Monica Stark
editor@valcomnews.com
Hailed by children at Tiny Tots Preschool in William Land Park, "Pirate Ship," the new album by Land Park children's musician Mister Cooper, includes eight Mother Goose rhymes, the title track, and a song about the adventures of a doodle bug.
With many songs kids already know, Mister Cooper mixes in a lot of fun little lines here and there, adding in what he calls, "some new information." What happens to Humpty Dumpty after he fell off the wall? Well, he says, that's for the children to find out.
To read the whole article, please click here…

********************

"The Pocket News"
Reprinted from "The Pocket News" – June 6, 2013
By Monica Stark
editor@valcomnews.com
Liked by kids and parents alike, Mister Cooper is always a hit and a hoot to boot, whether he's at your local library or at your child's school.
While he describes his most recent CD "I Like Your Hat" as an album about kids not necessarily for kids, my 17 month old and her playmates at daycare boogie down when the adults put it on. Listening to it in the car definitely helps trips fly by. There is one song on the album that even my dad recognized, though. It's a kind of bluegrassy cover of The Who's "Pinball Wizard." It's a great song and Mister Cooper does it justice. He says he's been playing it that way for 20 years and it was recorded with the Loose Acoustic Trio for their "Sorrow Be Gone" CD.
One mom at a recent storytime at the Colonial Heights branch agreed, telling him something to the effect of: "We were in traffic in San Francisco for three hours, so it was a Mister Cooper marathon." To wit, he replied: "I'm so sorry. That sounds terrible."
That's the kind of fun guy this musician is. Ken Cooper has been making kids' music for 17 years, ever since his son, John Cooper (who did a little bit of writing for Valley Community Newspapers and now works for the state), was in kindergarten and the school asked parents if they have any skills or talents they could share.
That was the first stepping off point, so to speak. And the "Mister Cooper is for the birds" album is what he calls the gateway CD with songs more for kids than about them.
Mister Cooper seems to keep relatively busy, going from libraries to schools to even performing at special events like festivals and birthday parties. His schedule for public events is on his website, www.MisterCooper.com, which is where you can also find his music. You can go to iTunes and listen to a sample of every song. You can get a song for 99 cents or the entire CD for $9.99. If you prefer the physical CD, you can get one from CDBaby.
As he says online, the best way to get a copy of the new songs for your listening pleasure is directly from him. "Come to a show, sing along, do the freeze dance, and pick up a CD for the ride home."
Here are the lyrics to his most recent album's title track, "I Like Your Hat," which is one of the four songs he sang on a Loose Acoustic Trio CD. "I had to re-write the lyrics to make them kid friendly. I like the new lyrics better," he says on his website. I like them too!
I like your hat
I used to have a hat like that
Now I don't know where it's at
I like your hat
I'd like another hat like that
Oh, I wish I had my ole hat back
I like your hat
I like your hat
My friends and I spent Fridays after school
Playing baseball in the park
I lost a bat, my glove, and favorite cap
No one could find them after dark
A lid like yours makes a great disguise
Where you can hide a bad haircut
That big ol' brim will keep the sun out of your eyes
I'd buy one now, but the price went up

********************

"The Pocket News"
Reprinted from "The Pocket News" – December 6, 2012
Mr. Cooper performs weekly for children at Belle Cooledge
By John Cooper
On Tuesday, Nov. 27, patrons of Belle Cooledge Library were treated to the sounds of music coming from the community room. Every week from 4 to 4:30 p.m., parents and children alike are invited to join in with Mister Cooper's Sing-A-Long club, a free program which encourages children to learn and be social through music.
The event, sponsored by the library and hosted by award-winning children's musician Ken Cooper, is tailored for younger kids but open to all. Both parents and children are encouraged to sing and dance along with classic songs like "Days of the Week" and "Freeze Dance," as well as original songs written and performed by Mister Cooper.
The community room is set up to encourage children to talk and play with one another during the performance. Rows of chairs are set up along the walls for parents, with Mister Cooper at the front of the room. However, the inside floor is where the fun happens. As soon as Mister Cooper started to sing and play his guitar, the kids joined right in. Many knew the words, and those who did not could still dance or clap with the beat. When Mister Cooper began the freeze dance, almost every kid got up and participated. Songs were not the only things sung that day. After it was revealed that I am Mister Cooper's son, parents began to sing me his praises. "We love your dad!" one mom told me as she was leaving. "The Sing-A-Long really got my son out of his shell." Another told me how glad she was that Mister Cooper had started the club, and how much her children loved him. Her kids, who were standing by her side at the time, nodded their agreement.
A list of Mister Cooper's upcoming events can be found on his website, https://mistercooper.com/, as well as videos, free downloads, blog posts, and a coloring book corresponding to his original song, "Words to Live By." His original songs are also available for purchase through the site.


********************

"The Connection"
"The Connection" is a bi-weekly newspaper published by
the Sacramento Unified School District
Reprinted from "The Connection" Volume 4, Number 17 – May 1, 2003
Learning Phonics, Math And History Through Music
by Jemileen U. Nuqui – editor
Making a difference, one song at a time would best describe Ken Cooper's teaching style. A professional musician, he uses his voice and guitar to sing and compose tunes that teach. His theme songs – chosen to suit the lessons being discussed in each grade level – range from phonics and math to historical events such as the California Gold Rush and the Civil War. His involvement in education started when he was asked to volunteer in his son's kindergarten class eight years ago. Today, he teaches his Kindergarten Sing program at Sutterville, John Cabrillo and Bret Harte elementary schools.
Cooper explained that the Kindergarten Sing program reinforces reading and counting competence, social skills and provides an opportunity for youngsters to learn music appreciation.
"It all started at Sutterville, where the PTA (Parent Teacher Association) decided to hire me to teach the program," he said. "Then, it was just word of mouth. More parents learned about my work and encouraged their PTAs to hire me."
Cooper also conducts music-related programs for fourth and fifth grade classes in Sutterville. He selects songs that depict the topics discussed in their Open Court curriculum. For example, the program called the California Gold Rush In Song would include songs such as "We Are All A-Pannin" and "Sacramento."
But he does not just teach music, he shares information on each song's historical background and characters during that period.
Another program, Going West – Songs of the 1800's, relates to the Going West unit in Open Court reading anthology. Themes of overcoming challenges, motivation, impact on the land and different cultures are reinforced in the lyrics of the songs he chose. He is currently working on ten blues and jazz songs for the sixth grade Open Court unit Beyond the Notes.
"I make sure that anything I bring into the classroom augments what students are learning in class," Cooper said. "I collaborate with the teachers to make sure we're on the same page."
Outside of conducting his programs, Cooper is a substitute teacher at Sutterville. He has taught kindergarten through sixth grade.
"I thought about becoming a regular teacher, but I like what I'm doing – being able to bring music to a lot of kids," he said. "Maybe I'll pursue that later."
While Cooper now enjoys teaching, education was never a field he thought he would join. "I never really saw myself as a teacher," he said. "I'm a musician. But these days, when I see the kids' faces light up when I enter a room, it's just a wonderful feeling. Children are the best audience."
He is grateful for the continued support he receives from parents, teachers and school administrators. "I have been working with great people," he said. "With limited school budgets, it is unfortunate that arts and music get cut. But with programs like these, we can at least bring some music into the classrooms."
Cooper was a computer science graduate, but he was very passionate about music and followed that direction. He moved from Albany, NY to Los Angeles, CA where he worked as a musician – writing songs and playing in many bands.
He and his wife moved to Sacramento in 1992 after their son was born. "We were watching the news and it showed schools in L.A. were installing metal detectors; that's when we decided it was time to go," he said.
Cooper now performs in a band called the Loose Acoustic Trio. The group plays bluegrass, country and old folk songs. They perform at Farmers Markets, local clubs, schools, fairs and festivals.