The Land Park Egg Hunt & Hat Parade is an annual event held the week before Easter. This picture is from 2018. We sure had fun but it sure was cold. Maybe 2019 will be warmer.
Curtis Park's "Music in the Park" concert series is a summertime treat for all who attend. The June 2014 show was my ninth year of appearing at this beautiful park. It's one of my favorite places to play. I'm already looking forward to next year. A BIG thank you goes to Rachel Nickel for bringing her camera along.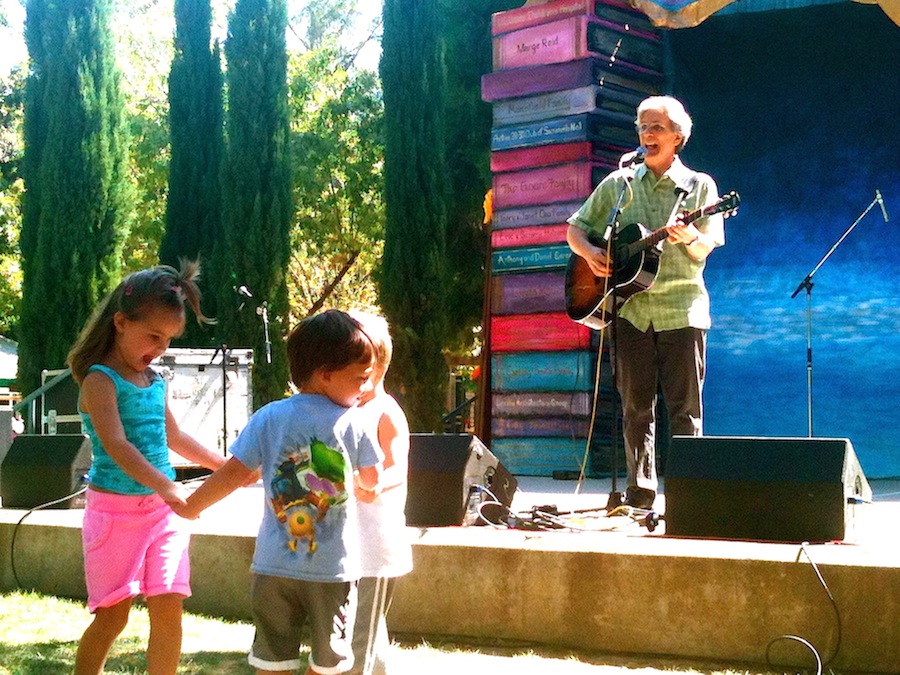 Fairytale Town's Cat & the Fiddle Music Festival was a highlight of the summer for me. Thank you to everyone who came out to say hello on that beautiful day. And thanks (again) to Rachel for the fine picture.
Here I am in a 1st grade classroom, helping students become better readers through music. I put the lyrics up on the screen and the kids "read along and sing along" with Mister Cooper. Thanks to Stephanie Rococha for taking the picture.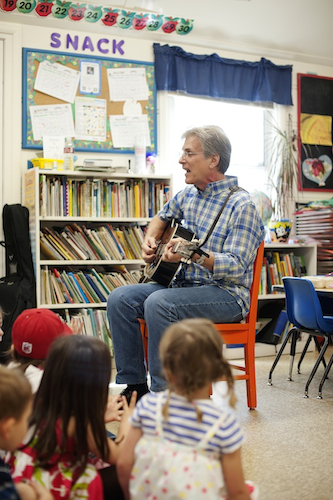 Here is a picture taken by Valeri Andersen at the Tiny Tot Time Preschool in Land Park. It's a great little preschool if you're ever looking for one.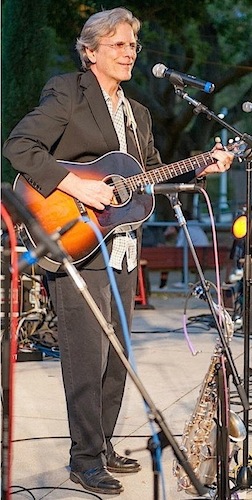 Here is a picture taken during the benefit concert at Fairytale Town for my friend, Francie Dillon, by stage manager and photographer, Rich Baum. It was a fantastic night of music and love for a wonderful storyteller, entertainer, and educator. I am honored to have sung a few songs that evening (11/2/2012).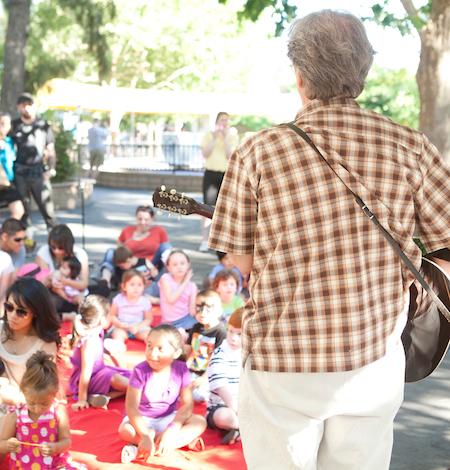 Mister Cooper plays a rousing set of family favorites at Funderland for the SacramentoSidetracks.com party (6/29/2012). A fabulous time was had by all who attended. The picture was taken by Jenn Bartell.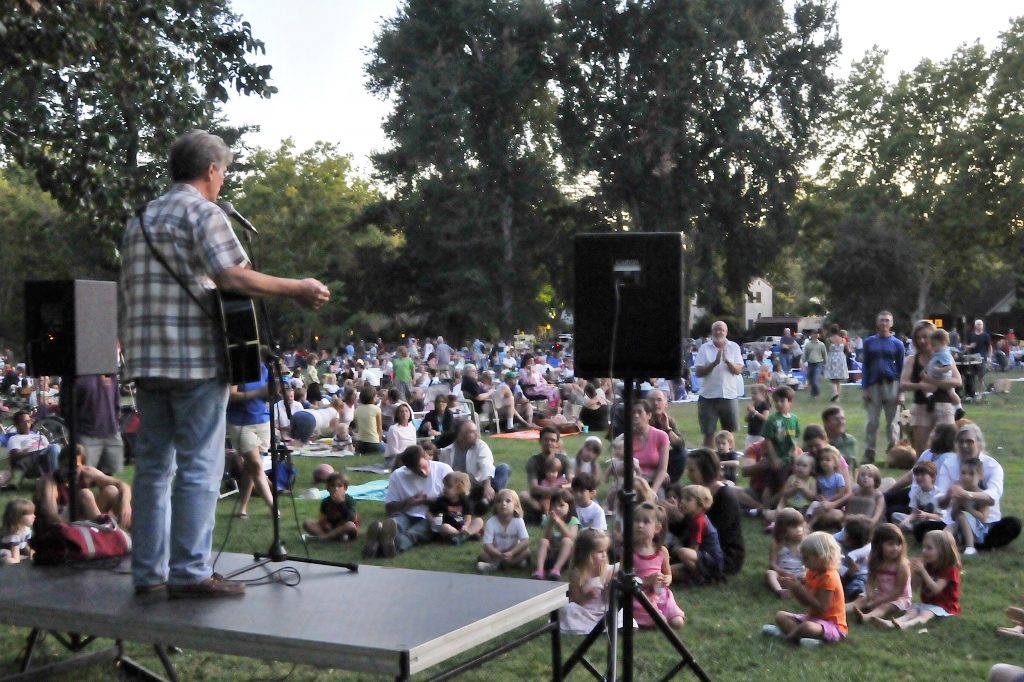 This picture was taken in 2009 at one of the Music in the Park concerts. Back then, there was a separate stage and PA system for the kids music portion of the show. These days, I've graduated to the main stage. It was fun being so close to everybody. It's also fun being on the big stage. It's all fun.
I like having my picture taken with cute girls. And here are two of the cutest, Sydney and Sarah, in a picture taken at the Valley Hi Library 3/29/12. Thanks, Janice (Sarah's Grandma).
Here is a picture of one of my biggest little fans, Des. He knows all the songs and has no problem asking for all his favorites. He and his family come to the Country Club Plaza Farmers Market and it's always great to see them.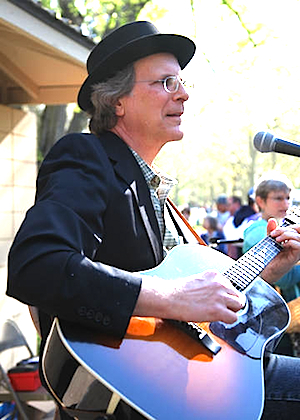 This is a picture from the fabulous Great Land Park Egg Hunt (3/27/10) – taken by Stephen Crowley. For more info about Stephen, please click here.
Nathan, Garrett, and James (left to right) are here with Mister Cooper at the Valley Hi Library. The future of Rock and Roll is in good hands. Lotsa luck, boys.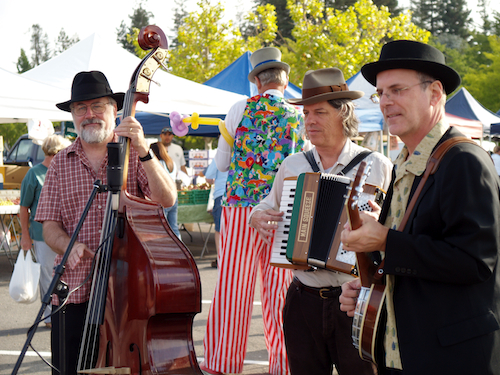 The Loose Acoustic Trio played a Farmers Market most Saturday mornings. The clown in the back is actually 7 feet tall. No kidding.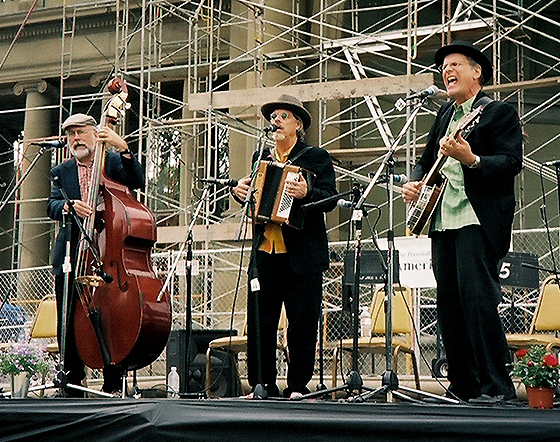 The LAT performed a set of music at the 2008 Jugband Festival in San Francisco. This picture was taken by our friend, Tom Loeb.