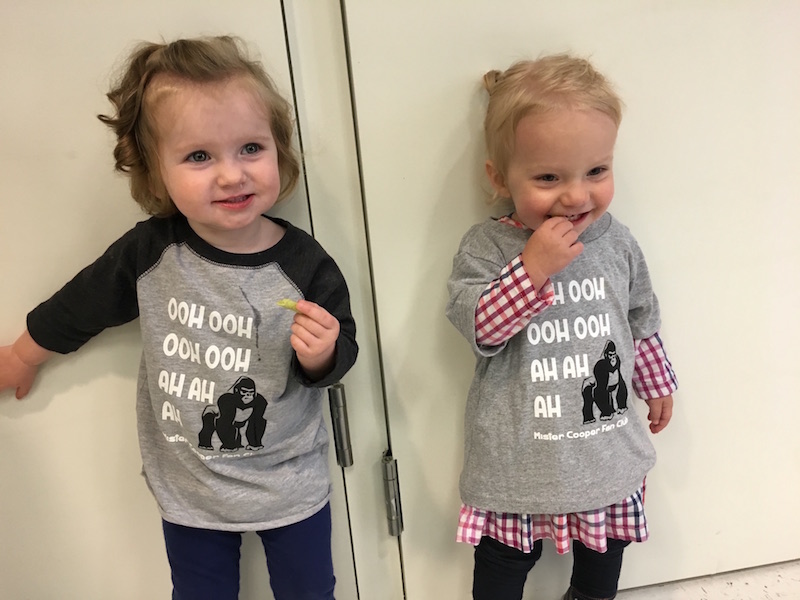 Well, if you would look at this… New Mister Cooper Fan Club t-shirts are now available. Thanks to spokesmodels Violet (left) and Camilla (right) for showing off this fashionable line of summer wear. Here are all the details you need to know about these fine shirts which are being sold to raise money to keep music time going at the Colonial Heights Library (which meets every Thursday morning at 10:00 am).
Design: Matilda the Gorilla
Sizes: 12 month, 18 month (plain gray t-shirt), 90% cotton, 10% polyester
2T, 3T, and 4T (baseball style t-shirt), 60% cotton, 40% polyester
Cost: $20 per shirt ($13 goes to making the shirt and $7 to the music fund)
The reviews are in…
Violet – "Ooh ooh, ooh ooh"
Camilla – "Ah ah ah"
Matilda the Gorilla – "I love these shirts. The picture looks just like me"
If you are interested in ordering a shirt, please contact Jeanna Twomey right away – jeanna.twomey@gmail.com. Be the first on your block to wear the new Mister Cooper Fan Club shirt. Act now. Thank you for your continued support of Mister Cooper's music.