Rainbow Smile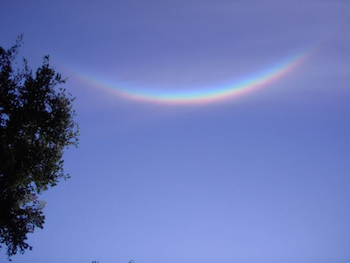 Have you ever seen a rainbow smile? Crazy, isn't it? This picture was taken by my friend, Eric Bianchi (hi Ethan and Donna) and sent to me from his iPhone. Thanks, Eric. And speaking of thanks, Thursday is my favorite holiday of the year – Thanksgiving. It's a time when I look back over the past year and feel gratitude for everything that has happened to me. Being able to share some of my thoughts and feelings with all of you here on this website is high on the list. Thank you for dropping by every now and then.
Having the opportunity to play my music at some of the libraries in town is something else I am very grateful for. I have three more Wednesdays in December at Belle Cooledge Library (December 1, 8, 15). The good news here is that we'll be starting the Sing-Along Club again in the middle of February. The time will be the same (starting at 4:00 pm), but the day will switch from Wednesday to Tuesday (I will remind you as we get into the New Year). The music sessions at Valley Hi Library have finished for the time being, but will start up again on January 13. Still on Thursday afternoons, still at 4:00 pm. A big THANK YOU to Belle Cooledge (Millie and Christy) and Valley Hi (Christine and Rhonda) libraries for inviting me back again in 2011. And thanks to all of you who come to sing along.
As you know, I have been working very hard on my new kids CD. But I have had lots of help along the way. My great friend and musical partner, Richie Lawrence, has been there since day one. Playing the accordion and piano, recording songs at his house and the kids at school, generously loaning me equipment, he has stepped up whenever asked. And Scott McChane is the engineer and co-producer for the whole project. His expertise, experience and attention to detail really makes the music come alive. He has become a fine collaborater and friend. Hats off to both Richie and Scott. Thanks, boys.
Have a wonderful Thanksgiving. Here is a song from my first CD for you to enjoy (click below). Good luck trying to keep me away from the pumkin pie. Thank you, one and all…