Music in the Park 2012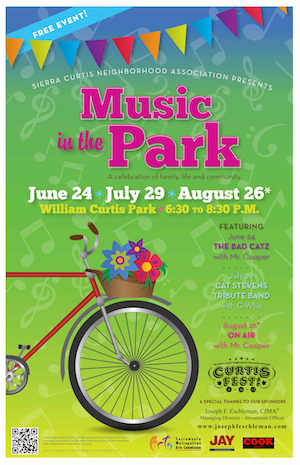 The last Sunday in June (the 24th) is coming up and that only means one thing… It's time for Music In The Park!
The Sierra Curtis Neighborhood Association is presenting its 7th annual concert series in Curtis Park again this summer and I am so happy to be invited back. It's a great night if you enjoy sitting among the trees in a beautiful Sacramento park, listening to music, talking with neighborhood friends, and relaxing with the whole family. The musical festivities begin at 6:30 pm when I'll sing some songs especially for you. Then a band calling themselves the Bad Catz will play a set. Then more Mister Cooper. And then more Bad Catz. I look forward to these shows every year and I really hope you can make it. Pack a blanket, a snack, some lawn chairs, and a smile. The best part is it's FREE! I'll see you there…
Please don't forget to remember that the Fair Oaks Library music time goes weekly starting this Friday, June 22. The singing starts at 10:00 am and I hope to see many new and familiar faces again this summer in Fair Oaks. The new schedule continues through August 17 and then we'll do something different once school starts back up. Tell your friends and neighbors – Mister Cooper is back in town.
I will also mention the fact that Belle Cooledge Library will be closed on Tuesday, July 3, due to a furlough day. All libraries will be closed then. Music time is also cancelled. Too bad, so sad.
There is so much going on now that I will be posting about in the near future. Please plan on a return visit soon. It looks to be a very interesting time for me and hopefully for you, too. In the meantime, I hope you all have a wonderful summer.
The End.