Music In The Park #2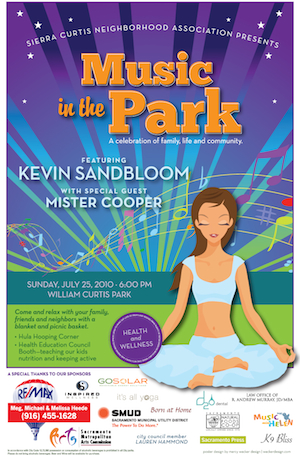 On Sunday, July 25, the second edition of the Music In The Park concert series takes place at the north end of Curtis Park. Anyone who visits this website on a regular basis knows I can go on and on about how much I enjoy these fabulous neighborhood gatherings.
Come and catch up with freinds and families you haven't seen in a while, relax beside the shady trees, listen to the tunes, and enjoy the scenery of beautiful Curtis Park. I would go and have fun even if I wasn't singing songs and playing music for everyone. Joining in the festivities as the headline musical act this time will be Los Angeles based singer/songwriter, Kevin Sandbloom. Hopefully, the temperature will be slightly less that the 102 degrees it was for the June show.
The theme for this month's concert is "Health and Wellness." The list of sponsors continues to grow. Of course, the Heede family from RE/MAX GOLD Realty will be there. So will Lauren Hammond, SMAC, SMUD, the Natural Foods Co-op, and plenty others, all making sure the entire evening will be a pleasant one. The music will start shortly after 6:00 pm. So pack up the family and make it over to Music In The Park. I'll see you there…