Gold Rush Days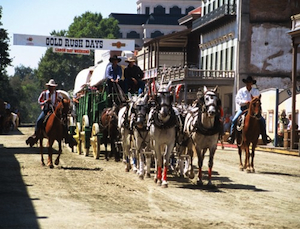 The Loose Acoustic Trio has been singing and playing music at Gold Rush Days since 2000, making this our 11th year there. It's a fabulous event that takes place every Labor Day Weekend in Old Town Sacramento. The California Gold Rush is our history, folks. And this is a fun way for your 4th grader to enrich what they'll be learning at school this year. There's so much for everyone to do and see. Check it out:
"More than 200 tons of dirt will be dumped on the streets of Old Town Sacramento as the annual festival "turns back the clock," transforming Sacramento's historic district into a scene straight out of the 1850s. Costumed re-enactors, Wild West gun fights, musicians playing period instruments, and many aspects of life during the Gold Rush will be highlighted during the four-day event. Gold Panning, Dancing, Street Dramas, Pony & Wagon Rides, Period Artifacts, Storytelling, Craft Making, the Embarcadero Tent City, the Ethnic Village, Horse-Drawn Carriages and much more!"
Here is the schedule of when we'll be performing:
Saturday, Sept. 4 – sets start at 2 pm, 4 pm, and 6 pm
Sunday, Sept. 5 – sets start at 11 am, and 12:45 pm
Monday, Sept. 6 – sets start at 11 am, and 1 pm
(see daily handouts for locations)

So, please join us for a few songs and then stay a while to take in the sights and sounds of Gold Rush Days. It's a great way to end the summer on a high note.