Egg Hunting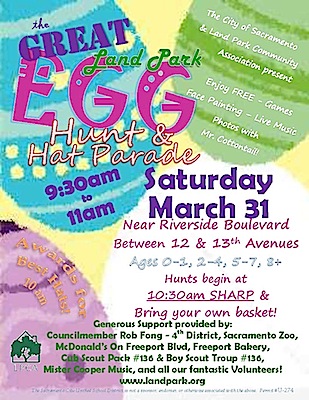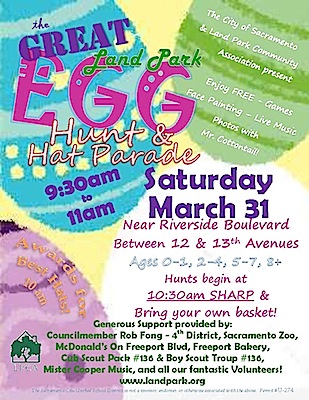 Easter Sunday is April 8th. If you would like to begin early and find extra eggs this year, I know a great place to start. On Saturday, March 31, the Land Park Community Association and the City of Sacramento present another fabulous Great Land Park Egg Hunt and Hat Parade. You'll find games, face painting, a visit from Mr. Cottontail, and music by you know who. The festivities start at 9:30 am with the Hat Parade at 10 am. Then the Egg Hunts begin at 10:30 am sharp. No fooling around. Set your alarm clock and don't miss the fun.
Please bring a basket, your most fantastic hat or bonnet, and your beautiful sing-along voice. It all takes place near Riverside Blvd. between 12th and 13th Avenues. Make a wish for good weather. I hope to see (and hear) you all there at this wonderful event. And the best part… it's FREE. For more, go to www.landpark.org.
In other news, the music continues at the 4 libraries where I currently sing. The Sing-Along Club at the Valley Hi Library meets every Thursday at 4:00 pm through the first week of August. Music time at the Pocket-Greenhaven Library keeps going until August 2013 (!) on the last Tuesday of each month starting at 11:00 am. Belle Cooledge Library holds their music time each Tuesday at 4:00 pm and attendance has been fantastic (thank you). Fair Oaks Library hosts the Sing-Along Club during the 2nd Tuesday of each month at 11:30 am until June 12. The next week, music time goes weekly on Fridays (starting on June 22) for the rest of the summer or until August 17 (whichever comes first). The libraries are a great place to get together and sing some songs. Thanks for your participation. And the kids seem to like the new "Mister Cooper" hand stamp, don't they?
Another big "thank you" to everyone who came out to Fairytale Town to celebrate Dr. Seuss' birthday. What a beautiful day it was. I'll be back for the same type of program on Sunday, April 15. 2 more sets of music starting at 12:00 noon and 2:00 pm. I plan on featuring some brand new songs at this show. A new kid CD is in the planning stages, so come on out and give a listen. I hope the weather will be as nice as it was the first week of March.
If there seems to be a lot of music going on now, it's because there is! Check back here often and be sure to come to a show near you and say hello. Thanks again in advance…