Decemburrrrrr News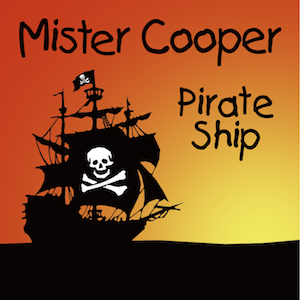 It's been a good long while since I last posted something on the website. There's a lot going on this month and I thank you in advance for taking the time to read all about it. Let me wrap up November by hoping you all had a wonderful Thanksgiving with family and friends. And, yes, I did eat too much pumpkin pie. Thanks for asking…
First up on the calendar is my (hopefully) last eye surgery. For those of you keeping score, so far this year I've had 2 cataract surgeries and one partial cornea transplant. On Tuesday, December 9, I'll have the 2nd transplant. So when I say, "Aye, Captain. No, it's the other eye," at the end of "Pirate Ship," you now know what I'm talking about. I plan on singing songs at Belle Cooledge Library the day after and at Colonial Heights Library the day after that. I hope to see you there.
One week later, I'll be accepting shipment of the new "Pirate Ship" CD. It's something else I've been working on all year. The actual release date is 1/6/15, but I'll be selling them early. CD Baby and iTunes will have to wait until next year. I have also taken the advice of my BFF, Taylor Swift, and decided not to put the new CD up on Spotify. Sorry, streamers. The only way you'll be able to hear the 17 fantastic new tunes is to get a CD (or many) directly from me. I try my best to always give you the highest quality sound at the low, low, lowest price possible. Plus, I'll throw in a smile. That's value added. Step right up…
Some of you are aware that a very generous anonymous donor family has been funding the Colonial Heights Library music program since March. There is now a group of parents doing what they can to keep song time going into 2015. If you're interested in finding out more, please contact Heather Downey (hldowney@gmail.com) and tell her Mister Cooper sent you. Thank you, Heather, for all your efforts.
Last, but not least, there is a special performance coming up on New Year's Eve. I will be playing at Belle Cooledge Library on Wednesday, December 31. The festivities start at 11:00 am with crafts hosted by children's librarian, Nate (the Great) Halsan. Then the music starts at 11:30 am. I'll be bringing some extra instruments along, singing some new songs from "Pirate Ship," but also family favorites you want to hear. During freeze dance, at 12:00 pm, we all will cheer and celebrate "Noon Year's Eve" at the library. How much fun is that?
That's all I got. I hope to see you at the libraries. Thanks for your continued support of all things Mister Cooper. Let's share the holidays together and have some fun. Oh yeah.