A News Break From Spring Break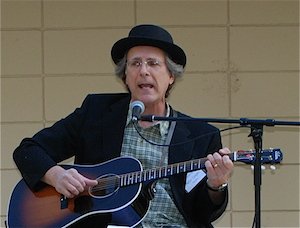 I play music and sing with 5 elementary schools and 3 pre-schools on a regular basis. And every one of them had this past week off for Spring Break. Hopefully, all of the students, but especially the teachers, had a relaxing time. I had a long list of things to do and I'm proud to say, most of them got done. I have started gathering songs for a new kid CD. One song in particular has become very special to me. A 4th grade friend of mine named Trevor wrote a fantastic song titled "That's What Beauty Is." He gave me a recording of him singing the melody, but there was no music. I worked on it, made some edits, figured out some chords, and recorded a version of it for him to hear. Maybe if he likes what I did, he'll let me put it on the new CD.
Last Saturday, I sang some songs at the Land Park Great Egg Hunt. The weather was nice and there was a big turnout. Here is a picture of me singing "Peter Cottontail." Thanks to event organizer April Meszaros for a job well done.
On Thursday, I continued my afternoon Sing-A-Long Club at the Valley Hi Library. I am very grateful to have this music program extended through the first week of June. Please come and sing along if you'd like to. For more info, please click here.
Speaking of the Sing-A-Long Club, I'll be starting the after school group again at Sutterville Elementary on April 19th. Sign-up forms will be going out this week. I've been saving some songs especially for this session, so it's going to be big fun. And kazoos, don't forget the kazoos.
Lastly, I will be singing some songs this coming Wednesday, April 7, at the Southgate Library. The performance starts at 4:00 pm. This will be a "Read Along – Sing Along with Mister Cooper" program where I pass out booklets with all the lyrics to the songs I'll be singing that day. Then everyone will be able to read along and sing along with me, Mister Cooper. These shows are always great. For more info, please click here.
Spring has sprung and it's starting to get busy. My Spring Break was a good one. I hope yours was too. Thanks for stopping by. See you soon.