Mister Cooper T-shirts
One Thursday, after music time at Colonial Heights Library, I was talking with Rachel Nickel, a long-time member of the Sing-A-Long Club and Shepard's mom. She told me she owned all the equipment needed to silk screen t-shirts. In her opinion, a Mister Cooper t-shirt would be a big hit with the Coopies (Cooper + groupies = Coopies). I was not so sure. But she taught herself how to use the machine and her enthusiasm was contagious.
The design is a simple one. It's the same image I used for the cover of the 1st "Mister Cooper" CD. The same font was used for the hand stamp. I had to re-draw the picture of the guitar. Rachel thought that black ink would be a good place to start. I ordered some shirts and now the finished product is being offered to you.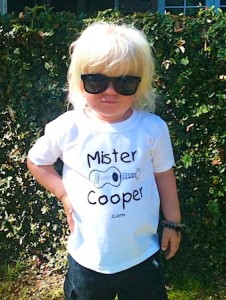 The toddler sizes are 2T, 3T, and 4T (white, grey, and pink – plus red and light blue). Child sizes are Xsmall and small (grey, lime green, and pink). We also have a few larger kid sizes for larger kids. Adult sizes may be available in the future, if the demand is there. There's a ladies style in various sizes and colors too. Once we're sold out of one color, we'll move on to a different color. It's a small scale operation.
Not sold on-line or in stores, the only way you can get a t-shirt is to buy one directly from Rachel or me. All shirts for kids are $10. That's right, ONLY TEN DOLLARS!!! Wow.
Please be patient with our little experiment. We are new with all this t-shirt stuff. I usually have my hands full giving out hand stamps and selling CDs. But hopefully, you'll like what you see and pick one up for your favorite youngster. Thank you in advance for your consideration and continued support of all things Mister Cooper. I appreciate it…